Healing Music CDs and DVDs – We appreciate your support of these ongoing fundraisers!
CALM MY PET MUSIC - special therapeutic music lovingly selected by Pamela Fisher, DVM

Calm My Pet Music  is specific musical compositions   to help pets cope with common phobias such as thunderstorms, household noises and stress. The special vibration of this music by Arden Wilken creates a harmonious environment for your animal companions while also improving their health and behavior.
Thi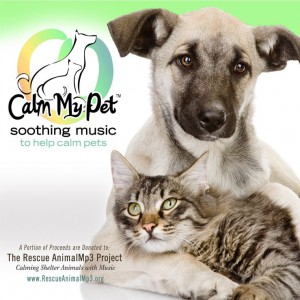 s compilation provides soothing vibrational music therapy to help relax the animals and enable us to see our pets' more natural and loving personalities. The music on this CD is designed with sound therapy and therapeutic music compositions to help the energy flow through the body with balance and calmness. $22 includes USA shipping.
Play this music anytime during the day or night to promote relaxation and self-healing
Calm your pet while you are at home or away
Help your pet stay calm and focused for training
Play while waiting for Vet visit or grooming
Play on a low volume
Visit www.CalmMyPet.com for additional natural calming products handcrafted by Dr. Pamela Fisher
Healing Touch for Animals® CD Volumes I,II & III are innovative music CDs which assists animals and their people with relaxation, allowing the body to create an avenue to self healing and focus on calming for stress and a greater connection for animals to their people. $24 each includes USA shipping.
CAUTION: The music in these CD creates deep relaxation and may cause drowsiness. Do Not Use these CDs while Driving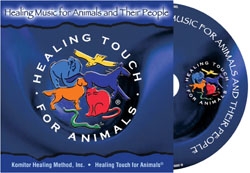 Healing Music for Animals & Their People – Volume I
Volume I brings the energetic perspectives of Healing Touch for Animals® Techniques into music, composed by Arden Wilken, capturing the resonance represented by each technique in a unique way. The sound travels through the body promoting a movement of expansion and contraction that helps release blockages held within the body. It provides an additional tool to assist the animals and their people with relaxation, allowing the body to regulate the immune system and creating an avenue for self-healing. $24 each includes shipping. *OUT OF STOCK*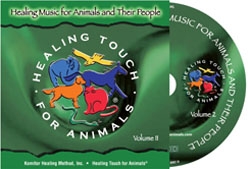 Healing Music for Animals & Their People – Volume II
The music from Healing Music for Animals and Their People-Volume II is intended to assist the listeners to reach their highest potential and achieve their goals of healing. Unlimited possibilities unfold as the music supports the listener through energetic equilibrium and balance. A neutral listening space is provided to open and clear any imbalance being experienced and replace those blockages with a steadiness to make change. Healing Begins! $24 each includes shipping.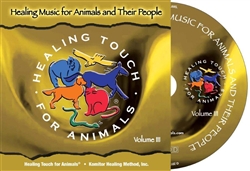 Healing Music for Animals & Their People – Volume III
Celebration comes to mind with the strength of sounds in this musical composition. This music reaches a deeper resonance creating energy system stabilization while allowing a sense of lightness to body, mind and spirit. The listener is able to grasp optimum possibilities to self-heal. This CD is a must for those who desire the best of wellness for animals and people. $24 each includes shipping.
ANIMAL HEALING Series by Margrit Coates, a world authority on animal healing and a renowned interspecies communicator.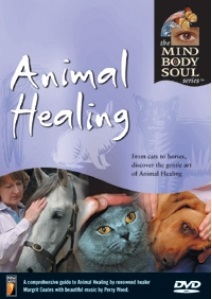 Animal Healing DVD by Margrit Coates
Hands on healing is a natural and safe help for animals that anyone can tune into. Sharing universal healing energy with animals helps us to draw close to them. There are many benefits that healing can bring to help emotionally, mentally and physically. Music from the album of Animal Healing. $26 includes USA shipping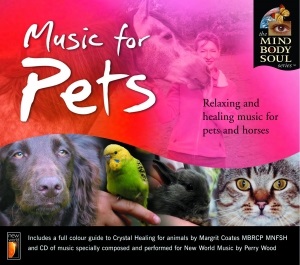 Music for Pets CD by Perry Wood and Margrit Coates
Pets can benefit from the healing sounds of music in a similar to humans. The music on this CD by Perry Wood has been specially composed by Perry Wood as suitable for playing to all animals. The whole album is designed as a healing and relaxing chill-out experience for the animals that you love. "This beautiful healing and relaxing music helps us reach the soul energy of our pets." Many cells of the body including those of humans and animals contain living liquid crystals. These have subtle vibrations which are similar to those found in crystal stone, so therefore when we use these stones in our healing they link with the individual energy of the animal. The crystals also link with our own healing energy which then sends out a vibration amplifying our focus and intent to help. A particular crystal may even introduce a new 'fine tuning' vibration into the body which can help healing even further. $22 includes USA shipping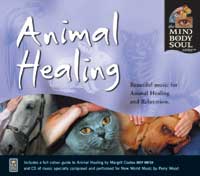 Animal Healing CD by Perry Wood and Margrit Coates
Perry Wood, fanatastic new artisit, working closely with the world-renowned animal healer Margrit Coates (who regularly writes for a well-known UK Newspaper) his debut album is now available in the hugely popular Mind Body and Soul series.
Aimed specifically for playing to animals from cats to horses the album cleverly avoids sounds that pets might find distressing. However like all the recordings in the Mind Body and Soul series, such is the quality of this calming beautiful music, that it also "crosses over" into a much broader appeal. This album will be popular with anyone looking for restful, tranquil, quality music. $22 includes USA shipping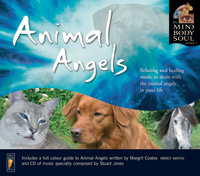 Animal Angels CD by Stuart Jones and Margrit Coates
"Music which is a celebration of the Angels in animal form that watch over us" – Margrit Coates. It is music also, to reflect the Angel quality of our four-legged teachers and guides. When I listen to this album with my pets, I can feel it awaken a powerful and magical connection between us.' Angels surround us and watch over us all the time. They protect and guide us.. heal us. Angels are our teachers too, leading us to a deeper understanding of the natural world. As well as Animal Guardian Angels, watching over you right now, there are our family Animal Angels our pets and horses. Helping us, teaching us, bringing healing messages.. they are our earthly link with the Angelic Realms of light. Animal Angels reach out to touch our souls with their unconditional love, offering support and strength. $22 includes USA shipping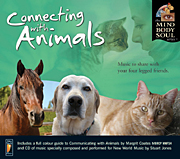 Connecting with Animals by Stuart Jones and Margrit Coates
Connecting with animals takes place when we tune into them via our minds and hearts. Animals communicate with us all the time, but humans often ignore this way of being or misunderstand what they are saying. When we activate our sixth sense, or intuition, then we can hear what animals say to us and learn how to help them. Share this relaxing album with your four legged friends, so that they can guide you to a place of deeper awareness. $22 includes USA shipping